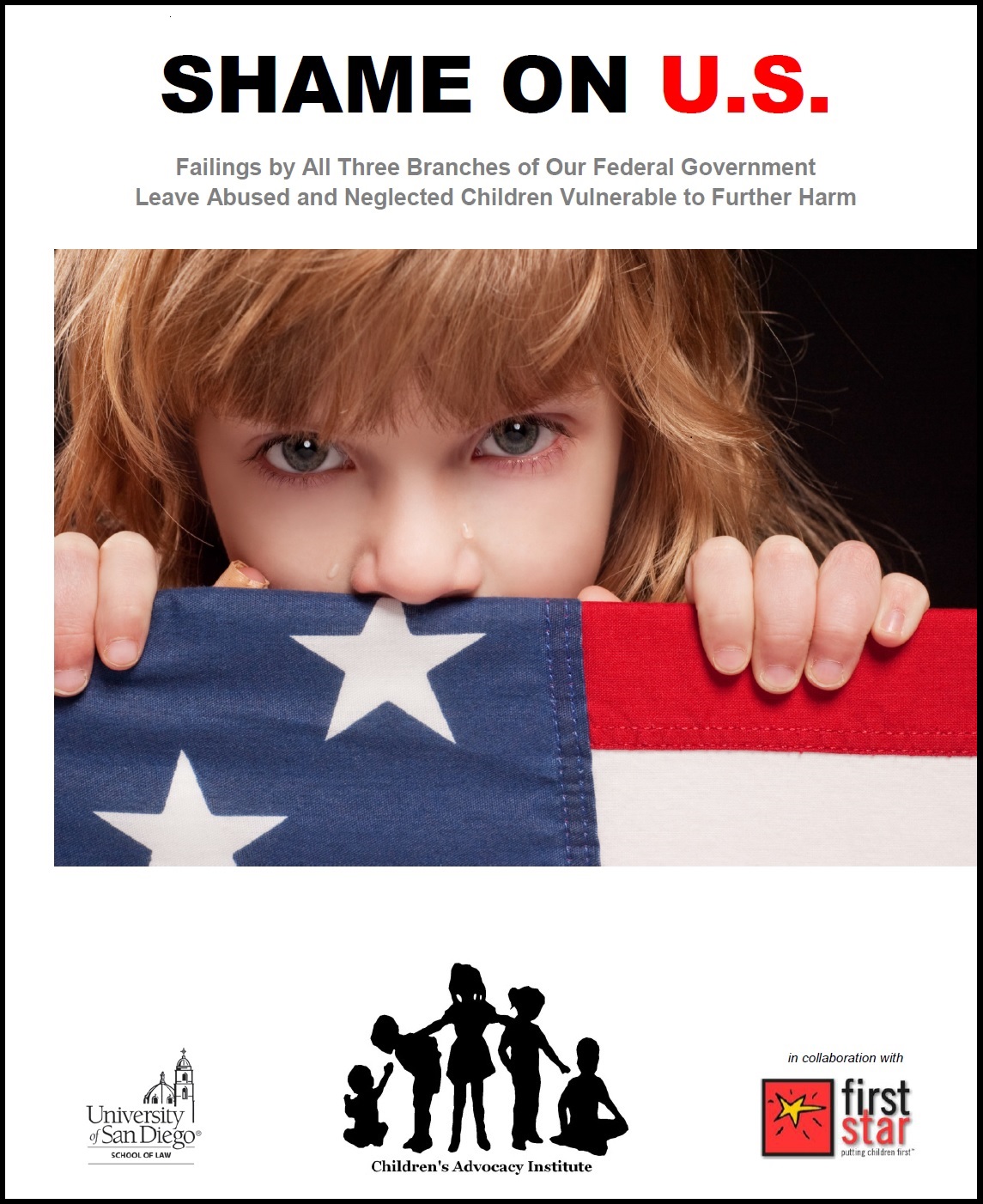 CFSR Results Summary: In its Child and Family Services Review (CFSR) process, HHS determines whether each state is in substantial conformity with 7 specific outcomes (pertaining to the areas of safety, permanency and family and child well-being) and 7 systemic factors (relating to the quality of services delivered to children and families and the outcomes they experience). In the first two rounds of the CFSR, HHS has concluded that California was:
Round 1 (2003)
NOT in substantial conformity with 7 of the 7 Outcomes
NOT in substantial conformity with 5 of the 7 Systemic Factors
Round 2 (2008)
NOT in substantial conformity with 7 of the 7 Outcomes
NOT in substantial conformity with 4 of the 7 Systemic Factors
Although federal law mandates that any state found not to be operating in substantial conformity during an initial or subsequent review must begin a full review within two years after approval of the state's program improvement plan, HHS has announced that California will not undergo Round 3 of the CFSR until FY 2016 (see CFSR Technical Bulletin #7 (March 2014)).

Documents from the U.S. Health & Human Services Children's Bureau
Child and Family Services Review Reports and Results


Title IV-E State Reports and Program Improvement Plans (PIPs)


Other Documents / Reports


Non-HHS Oversight Reports and Audits
Child Welfare Litigation*
Butterfield v. Lightbourne and California Department of Social Services
Children's Advocacy Institute's challenge to DSS regulations implementing SB 39 regarding public disclosure of child abuse and neglect fatalities
E.T., K.R., C.B., and G.S. v. George
Children's Advocacy Institute's challenge to minors' dependency attorneys caseloads in Sacramento County
California State Foster Parent Association, et al. v. Wagner, et al.
Children's Advocacy Institute's challenge to California's foster family home rates
Katie A. v. Bonta
Class action brought by the ACLU, Western Center on Law and Poverty, Center for Law in the Public Interest, Protection and Advocacy, Youth Law Center, Bazelon Center for Mental Health Law, and the National Center for Youth Law seeking the establishment and implementation of a community-based mental health service delivery system for Calfiornia children in foster care or at imminent risk of out-of-home placement
California Alliance of Child & Family Services v. Allenby
Alliance's Challenge to California's AFDC-FC group home rates
Brazwell v. Wagner
National Center for Youth Law's challenge to California's policy of denying cash assistance to relative caregivers when they children they care for get in trouble with the law and are returned home on probation
Dyer v. CIF
National Center for Youth Law's litigation securing fair and equal treatment of foster youth who play high school sports
*litigation summaries taken from information provided by the websites of the Children's Advocacy Institute, the National Center for Youth Law, and the California Alliance of Child & Family Services
Child Welfare In the News**
Equal Access to Mental Healthcare Still Eludes Foster Youth Placed "Out-Of-County" (The Chronicle of Social Change - January 05, 2015) Roughly one-in-five young people in California's foster care system are transferred between counties after entering care. Even though as many as two-thirds or more of these youth have heightened mental health needs, data show that they often wait months, or even years, for appropriate mental health treatment.
L.A. County fielded numerous complaints before deaths of two children (Los Angeles Times, Dec. 18. 2014) They opened investigations and let some complaints languish past the state's 30-day deadline, according to county records reviewed by The Times and interviews with officials familiar with the case.
Report finds high child abuse, neglect in Kern (Bakersfield Californian - December 17, 2014) Kern County children ages 5 and younger are twice as likely as their statewide peers to be victims of abuse and neglect, according to a new report.
Setbacks delay search for LA County's Foster Care Czar (Includes audio) (89.3 KPCC - December 10, 2014) The national search for someone to lead foster care and child protection reform in Los Angeles is starting over.

USC study challenges traditional data: points to higher rates of child abuse (KPCC - December 03, 2014) New research from the University of Southern California's Children's Data Network shows that approximately one in 20 children in California are victims of substantiated abuse or neglect before they reach their fifth birthday.
How Sacramento turns at-risk kids into criminals (Sacramento News and Review - November 27, 2014) Why do children with serious mental-health issues end up in juvenile hall instead of a doctor's office?
Los Angeles Office of Child Protection in Limbo (The Chronicle of Social Change - November 25, 2014) In what may be one of its final sessions, the transition team tasked with implementing widespread reforms to Los Angeles County's child protection system expressed frustration at the lack of progress towards naming a leader to the yet-to-be created Office of Child Protection.
Foster kid advocates dwindling (Del Norte Triplicate - November 17, 2014) Last year 63 youths under the jurisdiction of Del Norte Superior Court had an unpaid CASA advocate in their lives. To date, that number has dwindled to 27.
Swamped with dependency cases, law center may refuse young clients (Los Angeles Times, Nov. 14, 2014) In the crowded halls of Los Angeles County children's court, attorney Rosa Figueroa searches through family after family before finding her new client and kneeling so she can meet him at eye level.
Lawsuit Claims "Kids for Cash" Foster Care Abuse (Includes Video) (NBC Southern California - November 06, 2014) One of California's largest private foster care agencies is under fire over allegations of torture and abuse that are outlined in a 76-page lawsuit.
Drugging Our Kids (San Jose Mercury News - September 20, 2014) Children in California's foster care system are prescribed unproven, risky medications at alarming rates.
California not investigating foster care complaints promptly (Los Angeles Times, Sept. 12, 2014) The state agency responsible for overseeing California's foster care system is violating its own rules by failing to promptly investigate complaints of children being mistreated or living in poorly maintained homes, according to records obtained by The Times.
Foster care agency directors charged with embezzlement (Los Angeles Times, Sept. 18, 2014) A husband and wife have been charged with embezzling more than $460,000 from a taxpayer-funded nonprofit agency hired by Los Angeles County to help abused and neglected foster children, the district attorney's office announced Thursday.
State, districts struggle to support foster youth (EdSource Today - September 15, 2014) California's bold initiative to provide extra support for foster youth in school is proving difficult for most districts to implement, advocates say.
Social services director says he's losing employees because of pay (Plumas County News - August 28, 2014)"This is the seventh time in three years that I have been talking to you about vacancies," Smart told the Plumas County Board of Supervisors on Aug. 12. "We are approaching a crisis situation in child welfare."
Foster care watchdog says reform has slowed (89.3 KPCC - August 04, 2014) A foster care watchdog will issue a report Tuesday saying the pace of reform for L.A. County's troubled child welfare system has slowed over the past few months.
Fostering failure? A look at the US foster care system (Video) (MSNBC - July 28, 2014) Ronan Farrow meets with three young adults, who have recently "aged out" of the foster care system, as part of larger investigative report on the frightening reality that our foster care system may be setting up hundreds of thousands of young Americans to fail.
Sacramento CPS received warnings before 3-year-old drowned (Sacramento Bee, June 28, 2014) Family and friends repeatedly warned Sacramento County Child Protective Services that 3-year-old Airabella Mello suffered from abuse and neglect in the year before she drowned in a backyard pool.
California Rejects Bid to Restore Funding for Child Welfare Courts (The Chronicle of Social Change - June 18, 2014) Next year's California state budget does not include increased funding for child welfare courts, foiling efforts by the California legislature to decrease the overwhelming caseloads faced by lawyers for foster youth.


**news summaries primarily taken from daily newsfeed service of HHS' Child Welfare Information Gateway